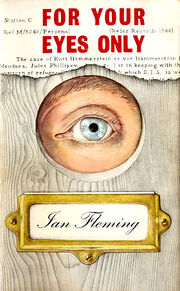 Quantum of Solace is the title of a short story published in For Your Eyes Only (1960), a collection of James Bond short stories written by Ian Fleming and first published in the May 1959 issue of Cosmopolitan magazine. The story entails James Bond, Agent 007 of the "Secret Service", attending a boring dinner party with a group of rich, snobbish people he cannot stand. There, he listens as the Governor of Nassau tells him a harrowing tale about a relationship between a former employee of the Governor's, Phillip Masters, and an air hostess named Rhoda Llewellyn.
While the story was never adapted for the silver screen, its title lent its name to the twenty-third official film in EON Productions' James Bond series, which was released in 2008 and was the second film to star Daniel Craig as the British Secret Service agent. In the film, Bond is tracking down the organisation that caused the death of his lover Vesper Lynd in the previous movie, Casino Royale (2006). He comes across a member of the organisation named Dominic Greene (played by Mathieu Amalric), who intends to stage a coup d'état in a South American country. Bond is assisted by Camille (played by Olga Kurylenko), who also wants revenge for what misdoings Greene did to her family. A tie-in console video-game of the same name was published by Activision the same year, alongside a Java-based mobile game released by Glu Mobile.
Literary
Movies
Video Games
Soundtrack
Ad blocker interference detected!
Wikia is a free-to-use site that makes money from advertising. We have a modified experience for viewers using ad blockers

Wikia is not accessible if you've made further modifications. Remove the custom ad blocker rule(s) and the page will load as expected.