Rosa Klebb (Lotte Lenya)
Talk

0
1,174pages on
this wiki
Colonel Rosa Klebb (Роза Клебб) is a fictional character and the main antagonist from the James Bond novel and film From Russia with Love. She was played by Lotte Lenya in the film version.
Film biography
Background
Klebb is a former SMERSH agent who has defected to become a member of SPECTRE (Blofeld refers to her as "No. 3"). She uses Kronsteen's plans to obtain the Lektor device and kill Bond. She hires Tatiania Romanova to help Bond steal the Lektor, and then sends Red Grant to kill Bond and recover it. When Red Grant dies at the hand of Bond, Blofeld wants to know who is behind the failure. Then, thanks to Morenzy, Kronsteen dies and Klebb makes one last attempt to get Bond and the Lektor.
Death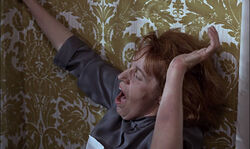 Posing as a maid, she attempts to take the Lektor; when she is caught she points a gun at Bond. Tatiana Romanova then distracts her, causing her to drop the gun, and Bond and Klebb fight. As in the novel, Klebb attempts to kick Bond with the poison tipped shoe, but Bond blocks the attack with a chair. Tatiana then picks up Bond's gun and kills her.
Henchmen & Associates
Behind the scenes
It is strongly implied in the film, and explicitly stated in the novel, that Klebb is a lesbian. Her hard, almost masculine appearance, coupled with several instances when she touches Tatiana and comments on her beauty or her reaction when Morzeny touches her, give a 1963-era stereotype for this aspect of the character. The lesbianism of Klebb was toned down in the movie, probably to avoid a restricted rating, though it is strongly implied in the novel.