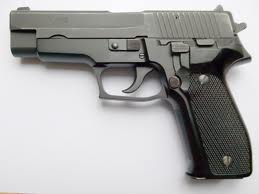 The SIG P226 is a full-sized, service-type pistol made by SIG Sauer. It is chambered for the 9×19mm Parabellum, .40 S&W, .357 SIG, and .22 Long Rifle. It is essentially the same basic design of the SIG P220, but developed to use higher capacity, staggered-column magazines in place of the single-column magazines of the P220. It appears in 
Quantum of Solace
.
Specfication
Production: ?-Present
Type: Pistol Weight: 964 g (34.0 oz) (w/ magazine)
Length: 196 mm (7.7 in)
Barrel Length: 112 mm (4.4 in)
Capacity: 10, 15, 17, 18, or 20
Fire Modes: Semi-Auto
Film biography
M's bodyguard has a SIG-Sauer P226, which he uses to kill two of M's men and attempts to kill her, but Bond makes him hit the captive Mr. White and pursues him. While running from Bond, the bodyguard kills two innocent civilians to distract him, but he managed to catch up and they fight in a construction site and lose their guns. As the guard tries to get his, Bond managed to pick up his Walther PPK  and shoots him dead. After incapacitating his arresters, Bond steals a SIG Sauer from one and places it behind his back. He uses it during the firefight at Perla de las Dunas Hotel and with it kills many of General Medrano's and Greene's men, including Carlos and Greene's Driver, but loses it when Greene attacked him with a fire axe.
Ad blocker interference detected!
Wikia is a free-to-use site that makes money from advertising. We have a modified experience for viewers using ad blockers

Wikia is not accessible if you've made further modifications. Remove the custom ad blocker rule(s) and the page will load as expected.