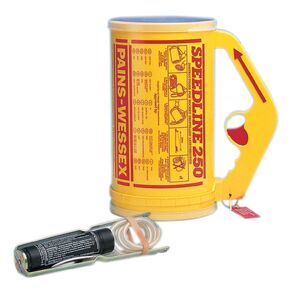 The Schermuly Pains-Wessex Speedline is a line throwing device procured by by Erik Carlsson in the 1983 James Bond novel Icebreaker by John Gardner. The device fires up to 257 meters of cable with accuracy at up to 230 meters, and is considered by James Bond to be the most accurate line throwing device in the world.
Bond included the Speedline in a list of equipment he needed stowed in his Saab 900 Turbo by his friend Erik Carlsson, who was watching the car for him while he was in Carlsson's native Finland.
Literary appearances
Ad blocker interference detected!
Wikia is a free-to-use site that makes money from advertising. We have a modified experience for viewers using ad blockers

Wikia is not accessible if you've made further modifications. Remove the custom ad blocker rule(s) and the page will load as expected.