Shaun Campbell is British Secret Service agent who appears in the 1969 James Bond film On Her Majesty's Secret Service. He was portrayed by British actor Bernard Horsfall.
The character was based on the Ian Fleming novel On Her Majesty's Secret Service.
Film biography
Campbell helps James Bond when he is finding about Blofeld in Gumbold's office by using a crane to deliver a safe-cracking device to Bond. Later, posing as a tourist, he tries to hitch a ride in a cable car up to Piz Gloria to contact Bond. However, he is confronted by Blofeld's heavy, Grunther, who forcefully refuses to give Campbell permission.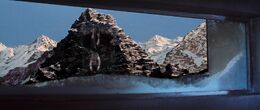 Campbell then decides to take events into his own hands and attempts to rock-climb up to Piz Gloria without Blofeld's guards noticing him. However unfortunately for Campbell, he is detected and captured. Blofeld briefly interrogates Campbell, to which Campbell threatens 'the authorities will hear about this'. But unfortunately, Campbell is killed before he can contact MI6 and is left swinging in front of a window with one leg tied up by a rope. Blofeld, when he exposes Bond's true identity, makes sure that Bond views Campbell's hanging body as an incentive to stay away from his operations.