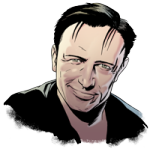 Steve Cole is a British writer. He is responsible for the continuation of the Young Bond franchise.
Biography
Cole is a best-selling author of books for children with over forty books and three million copies sold across his various franchises which include novels based on the popular television series Doctor Who. In the Bond Franchise, he has written three novels.

Ad blocker interference detected!
Wikia is a free-to-use site that makes money from advertising. We have a modified experience for viewers using ad blockers

Wikia is not accessible if you've made further modifications. Remove the custom ad blocker rule(s) and the page will load as expected.