Ad blocker interference detected!
Wikia is a free-to-use site that makes money from advertising. We have a modified experience for viewers using ad blockers

Wikia is not accessible if you've made further modifications. Remove the custom ad blocker rule(s) and the page will load as expected.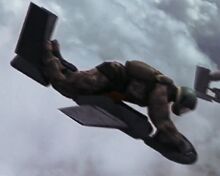 The Switchblade is an ultra small, single person aircraft, with scale performance and appearance similar to a supersonic fighter aircraft and featured in the 2002 film Die Another Day. At the end of the flight, the pilot separates from the Switchblade, and the pilot and "blade" land using parachutes. The Switchblade is typically launched from another aircraft. The Switchblade's wings fold in for launch or high-speed dives and spread in flight for cruise and manoeuvres.