Ad blocker interference detected!
Wikia is a free-to-use site that makes money from advertising. We have a modified experience for viewers using ad blockers

Wikia is not accessible if you've made further modifications. Remove the custom ad blocker rule(s) and the page will load as expected.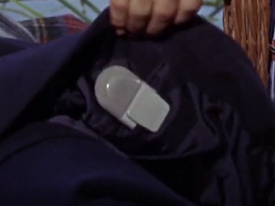 The
Syncraphone
(also known as a
pager
) was a wireless
telecommunication
device which first appeared in
Ian Fleming
's
James Bond
novel
On Her Majesty's Secret Service
(1963) and made an appearance in the film adaptation of
From Russia with Love
, which was released the same year.
Background
The device had been recently introduced at the time of the novel On Her Majesty's Secret Service and was carried by all Secret Intelligence Service officers attached to Headquarters. The syncraphone was a light plastic radio receiver about the size of a pocket watch, which could be used to communicate with SIS officers within a range of ten miles of their London Headquarters. When the device bleeped, it was the officer's duty to go at once to the nearest telephone and contact his office.