Oh, and missed you, did they? What a pity!


This article has been marked as a candidate for deletion. Give your opinion on this article's talk page. Admins should check what links here and the the page history before making the decision to delete this article.
The Tall Man is a minor villian in the 2006 film Casino Royale. He was played by Leo Stransky.
Film biography
The Tall Man accompanied Adolph Gettler to a Palazzo under reconstruction in Venice. Gettler is there to meet Vesper Lynd, who has the money that Bond won at the Poker game in Montenegro. Gettler however spots Bond lurking in the shadows and takes Vesper hostage while the Tall Man draws his gun. Gettler and the man take Vesper into the Palazzo followed by Bond. Bond fights his way to the top of the building eventually taking The Tall Man hostage. Bond then uses the man to blocks Gettler's bullets which wound the man. Afterward Bond jumps out of the way as the elevator shaft of the building topples over and crushes The Tall Man to death.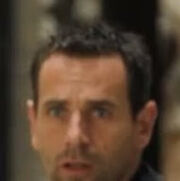 Ad blocker interference detected!
Wikia is a free-to-use site that makes money from advertising. We have a modified experience for viewers using ad blockers

Wikia is not accessible if you've made further modifications. Remove the custom ad blocker rule(s) and the page will load as expected.