The Property of a Lady was the rumored title for the seventeenth film in the James Bond film franchise. Originally scheduled for a mid-1991 release, Bond 17 was delayed twice, first after a change in writing staff, the new date touted was to be December 1991. Later, after litigious actions halted the production, Bond 17 was set for a late 1994 release.
Plot
Several plot details on the original drafts have been revealed about Bond 17's plot before the subsequent re-writes that would culminate with GoldenEye:
After terrorists target a Scottish nuclear facility, James Bond is deployed to the Far East to investigate the prolific businessman Sir Henry Lee Ching. In Hong Kong, Bond rendezvous with retiring spy Denholm Crisp who was a mentor to Bond early in his career. He crosses paths with the Chinese Secret Service and teams up with jewel-smuggler Connie Webb to get to the bottom of Ching's shady past and prevent global pandemonium that could spark World War Three.
Film history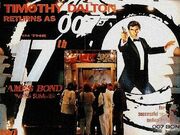 Dalton's second Bond outing, "Licence to Kill" (1989) is met poorly at the box office, especially in the USA with a lack-lustre marketing campaign up against stiff competition. Pre-production work for the third James Bond film starring Dalton, fulfilling his three-film contract, began in May 1990. A poster for the then-upcoming movie was even featured on the Carlton Hotel during the 1990 Cannes Film Festival. On August, The Sunday Times reported that producer Albert R. Broccoli had parted company with writer Richard Maibaum, who had worked on the scripts of all but three Bond films so far, and director John Glen, responsible for the previous five installments of the series. Broccoli listed among the possible directors John Landis, Ted Kotcheff, and John Byrum
The MGM/Pathe global television rights are challenged in the courts causing further delays. In May 1993, Variety reports that Michael France has been hired to pen the new Bond adventure, Richard Smith is also brought on to plot "future" Bond stories. MGM/UA legal debates draw to a close and in 1993 a more "Bond-friendly" view is taken by the execs. By August 1993, France turned in a second draft. In April 1994, with still no sign of Bond 17 going to production, Dalton bows out from the role. Many of France's ideas prove to similar to Schwarzenegger's spy-picture, "True Lies", new screenwriters are sourced to polish the James Bond outing. On 12 April 1994 Timothy Dalton announced he was quitting the role, leading to Pierce Brosnan being cast as the fifth official James Bond actor. The reworked and re-cast 007 outing, GoldenEye finally made it to the cinemas in November 1995.
Expected Cast & characters
Anthony Hopkins was the frontrunner to play Bond's mentor, turned villain Denholm Crisp. Elizabeth Hurley was a contender to feature as a Bond girl in the film.
Used Content
Several elements of the film survived and were integrated in some form to the script of GoldenEye. The opening sequence was set to take place in a nuclear facility in Scotland. GoldenEye's opening also took place in a nuclear facility in Russia. The main villain was going to be a former ally of Bond, in this case his mentor, Denholm Crisp. However, GoldenEye changed this to a fellow 00 agent, Alec Trevelyan, to better reflect the newer and younger look of Pierce Brosnan. The Bond girl of the film was a specialist in her field of jewelry, the main plot focus of the film which would change to a computer programmer in Natalya Simonova.
The part of Sir Henry Lee Ching would later be rewritten as General Arkady Ourumov. In addition, Ching's character would share several similarities with Guy Thackeray, himself a millionaire businessman operating out of Hong Kong, who was the villain of Raymond Benson's 1997 Bond novel Zero Minus Ten. Draft scripts of the film revealed that the iconic Aston Martin DB5 from the Sean Connery era was planned to be used as Bond's choice of car. The DB5 eventually did make a long awaited comeback in GoldenEye.
Ad blocker interference detected!
Wikia is a free-to-use site that makes money from advertising. We have a modified experience for viewers using ad blockers

Wikia is not accessible if you've made further modifications. Remove the custom ad blocker rule(s) and the page will load as expected.