The World Is Not Enough
Talk

0
1,250pages on
this wiki
The World Is Not Enough is the nineteenth official James Bond film made by EON Productions and the third to star Pierce Brosnan as Ian Fleming's secret agent, James Bond. It was released in 1999, and produced by Michael G. Wilson and Barbara Broccoli. The film's story and screenplay was written by Neal Purvis and Robert Wade who later teamed again for 2002's Die Another Day, 2006's Casino Royale, and 2008's Quantum of Solace.
The title comes from the English translation of the Bond family motto, the Latin Orbis non sufficit, which was established and adopted by James Bond in Fleming's novel, On Her Majesty's Secret Service.
Plot summary
A British oil tycoon, and friend of M, Sir Robert King, is assassinated by an agent of Renard, an anarchist terrorist. M assigns James Bond to protect King's daughter, Elektra King from Renard, who previously had kidnapped her. She assumes control of her father's oil business at a pivotal time, taking over responsibility of an oil pipeline through the Caucasus, from the Caspian Sea to the Mediterranean coast of Turkey.
Prior to the events in the film, M sent 009 to assassinate Renard. 009 failed, only wounding Renard by leaving a bullet lodged in Renard's brain. The bullet is slowly working its way towards the cerebral cortex. As it moves, it eliminates his senses of pain and touch, enabling him to physically drive himself beyond normal human limits. This will in turn allow him to continually gain strength until the bullet inevitably kills him.
Renard steals a quantity of weapons-grade plutonium from a former Russian ICBM base in Kazakhstan, there encountering Bond. After Bond escapes from a booby-trapped missile silo with American nuclear physicist Christmas Jones, the two return to the King pipeline, discovering that Renard has set a nuclear bomb in a section of the pipeline in a cleaning rig headed towards the pipeline's control center. They enter the pipeline, catching up with the bomb in a spare cleaning rig, to attempt to defuse the bomb, but find that Renard only used part of the plutonium. Bond allows the bomb to explode; he and Jones jump off the rig inside the pipeline seconds before the explosion and survive. When Bond radios in that he survived (Jones also survived), he discovers that M has been kidnapped.
At that point, he grasps that Elektra is operating with Renard. Meantime, Renard hijacks and kills the crew of a Russian Victor III class nuclear submarine. Eventually, when Bond confronts Elektra, he finds she had made a professional and romantic alliance with Renard during captivity (Stockholm syndrome). Their plan is to introduce the remaining plutonium to the submarine's nuclear reactor, overloading it and causing a nuclear meltdown in the Bosporus at Istanbul which would not only kill countless thousands of people, but also contaminate the Bosporus for decades. The effect would prevent shipment of Caspian Sea petroleum through any existing route, because all Caspian region pipelines terminate at the Black Sea, requiring that tankers go through the Bosporus; the only alternative would be the King pipeline. After forming an alliance with Valentin Zukovsky, the two men storm Istanbul's Maiden's Tower which is being used by Elektra and Renard as their base of operations and where the stolen Victor III is docked. Bond corners Elektra and shoots her in cold blood, but not before singnaling Renard to dive the submarine. Bond then goes after the submarine, dispaches all of Renard's thugs, and frees Jones who had been held captive. Bond and Renard have a breif fight within the submarine's reactor chamber, but due to his inability to feel pain, Renard comes out the victor. Renard then attempts to insert a rod forged out of the remaining plutonium into the reactor core, but due to Bond's tampering, the rod is ejected at high speed out of the reactor and into Renard's chest, killing him. Bond and jones then escape while the flooded recator safely detonates; Bond and Jones then have an intimate night together, celebrating a mission accomplished.
Cast and Characters
This was Desmond Llewelyn's last appearance as "Q" before his death in December, 1999. The film also introduced "Q"'s successor, "R", played by John Cleese. The name "R" was a joke made by Bond upon their introduction. In future movies "R" takes over the job of Quartermaster, thus taking on the title "Q". Fans are often disturbed by the death imagery in Llewelyn's final scene, which ends with the actor being lowered into the ground alongside a car; he died in an automobile accident only a few weeks after the film's release.
Crew
Locations
Film locations
Shooting locations
Bilbao, Spain
Baku, Azerbaijan
London, Wiltshire and Halton House, Buckinghamshire, England
Scotland — Eilean Donan castle
Istanbul, Turkey
France
The Bahamas
Vehicles & gadgets
Main articles: List of James Bond vehicles and List of James Bond gadgets
BMW Z8 - Loaded with several Q refinements including ground to air missiles, a key chain that can control the car remotely, and as R proudly points out, cup holders. For films, this is the first car Bond is given by Q-branch where the steering wheel is on the left side.
Q Boat - used in the opening sequence. Was created by Q for his retirement.
Omega Watch - Bond's watch has the ability to shoot a grappling hook that can allow him to climb to new heights.
Marketing & Merchandise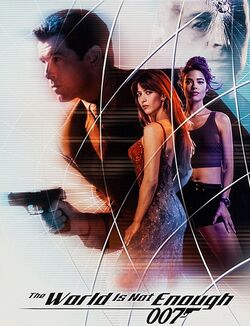 At the time of the film's release, MGM signed a marketing partnership with MTV, primarily for American youths who were assumed to have considered Bond to be "an old-fashioned secret service agent". As a result MTV broadcast more than 100 hours of Bond-related programs immediately after the film was released, most being presented by Denise Richards. The BMW Z8 driven by Bond in the film was the final part of a three-movie product placement deal with BMW (which began with the Z3 in GoldenEye and continued with the 750iL in Tomorrow Never Dies). Other promotional and product placement partners included Omega SA, Heineken, Smirnoff, evian, and Wilkinson Sword.
The film was released on DVD and VHS on 16 May 2000, and sold over 5 million copies. The initial release of the DVD includes the featurette "Secrets of 007", which cuts into "making of" material during the movie; the documentary "The Making of The World Is Not Enough"; two commentary tracks—one by director Michael Apted, and the other by production designer Peter Lamont, second unit director Vic Armstrong, and composer David Arnold; a trailer for the video game, the Garbage music video, and a "making of" booklet which featured trivia on the film's production and stills from the film. The Ultimate Edition boxed set release from 2006 had, as additional extras a 2000 documentary named "Bond Cocktail", a featurette on shooting the Q Boat scenes, Pierce Brosnan in a press conference in Hong Kong, deleted scenes, and a tribute to Desmond Llewelyn. The Ultimate edition was re-released individually in 2008 on DVD and Blu-ray; most recently it has been released as part of The James Bond 50th anniversary Blu-ray set and in bare-bones dvd form.
Featuring "The World Is Not Enough" performed by Garbage, the main soundtrack was Composed by David Arnold. This is the second James Bond soundtrack composed by Arnold after he was hired to replace Eric Serra for 1997's Tomorrow Never Dies
Released in conjunction with the release of the film, the novelisation was penned by Raymond Benson and adapted from the screenplay by Neal Purvis, Robert Wade, and Bruce Feirstein.
Released in the fall of 2000 for Nintendo 64 and Sony PlayStation, The World Is Not Enough is a first-person shooter developed by Eurocom and Black Ops Entertainment and published by Electronic Arts.
Trivia
Videos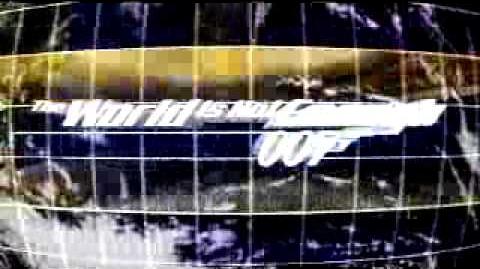 Trailer
Opening Title Sequence
Clips
| | |
| --- | --- |
| | |
| Boat chase | Battle in the caviar factory |
External links