Oh, and missed you, did they? What a pity!


This article has been marked as a candidate for deletion. Give your opinion on this article's talk page. Admins should check what links here and the the page history before making the decision to delete this article.
Bond's Top Boats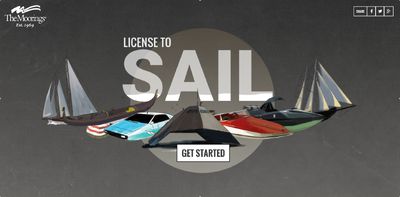 As Bond is definitely no stranger to
taking to the water in his relentless pursuit of henchman and villains alike, perhaps a more aptly fitting sanction would be a 'License to Sail'. In homage to SPECTRE  , yacht charter specialists The Moorings have put together a fun interactive web page where you can now search for the most iconic and, in some cases, unrecognisable James Bond Boats  .
For example, Q's "Fishing Boat"...
Featured in: 
Special Features:
Torpedoes
and dive underwater
Trivia:
with an air cannon for the final scenes where the boat was launched out of the water
created in total
There are other behind the scenes facts available for each of the iconic boats selected and a 5 star rating system judged by an independent Bond fanatic.
Check it out to see if you agree!
Ad blocker interference detected!
Wikia is a free-to-use site that makes money from advertising. We have a modified experience for viewers using ad blockers

Wikia is not accessible if you've made further modifications. Remove the custom ad blocker rule(s) and the page will load as expected.