It seems that yesterday, a screening of the Skyfall trailer took place at CinemaCon in Las Vegas. We aren't going to see the trailer until May, most likely, but we are hearing about a scene from the trailer that sounds awesome. James Bond is speaking to a shrink, using word association. The words spoken might hint something about the film:
"Country"/"England", "Gun"/"Shot", "Agent"/"Provocateur", "Murder"…"Employment"

When he hears, "murder", he thinks, "employment"? How much more Bond can you get?
During this scene, Judi Dench and Ralph Fiennes are watching James Bond from behind glass. When the shrink says, "Skyfall", Bond says, "Done."
And if that's not exciting enough, check out the new James Bond magazine cover!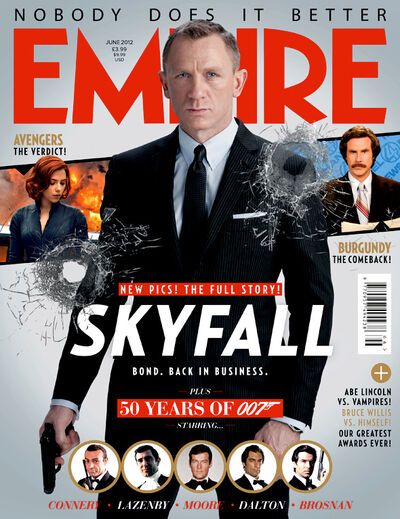 Source: Darkhorizons.com
---
---
Ad blocker interference detected!
Wikia is a free-to-use site that makes money from advertising. We have a modified experience for viewers using ad blockers

Wikia is not accessible if you've made further modifications. Remove the custom ad blocker rule(s) and the page will load as expected.