October 5th is Global James Bond Day, and although some people think about explosions, tuxedos, gambling, evil villains, or martinis, one of the first things that comes to my mind is the music. Everyone is excited for the upcoming Skyfall theme, sung by Adele, so let's honor the franchise by taking a look back at the tunes.
Every James Bond film has a theme song that plays during a carefully crafted opening title sequence. We could rank them, but that would take too long. We could choose the best, but that would be too easy. Most of the themes are sung by music legends, from Paul McCartney to Madonna, but Shirley Bassey is the undisputed champion of the Bond theme, having recorded the most at three. Two of Bassey's themes are the most famous: Goldfinger and Diamonds Are Forever.
So, let's determine the best decade. When not classifying music by genre, people most often group artists together by the decades. Nobody says, "I love glam metal, New Wave sub-genres, and synthesizers." They say, "I love 80's music."
I've assembled every official Bond theme ever, right here, and categorized them by decade. Check them out, revisit the old classics, or listen to the theme songs you maybe have never heard. When you're done, vote at the bottom of this page for which decade had the best Bond theme songs. Enjoy.
1960's
Dr. No (1962)
From Russia with Love (1963)

02:40

1962 - James Bond - Dr. No title sequence

02:45

1963 - James Bond - From Russia with love title sequence

As the first Bond film, Dr. No is the only one without a unique theme song. Instead, the legendary James Bond Theme is played at full length for the title sequence. The song was composed by Monty Norman and rearranged by John Barry and uses a guitar riff influenced by the surf rock craze of the early 1960s.
The theme song for From Russia with Love is one of the few Bond themes without lyrics. It was composed and performed by John Barry, who helped create a lot of the early themes.
Goldfinger (1964)
Thunderball (1965)

03:09

1964 - James Bond - Goldfinger title sequence

03:22

1965 - James Bond - Thunderball title sequence

"Goldfinger" is arguably the most iconic and recognizable of all of the Bond theme songs, and Shirley Bassey, who has recorded more Bond themes than any other artist, can be credited with setting the golden standard. If you don't sing along when you hear this, you are not a true 007 fan.
The Thunderball theme was sung by legendary Welshman Tom Jones, you know, the guy who sings "It's Not Unusual", "What's New Pussycat", "She's A Lady", and "Sex Bomb". What a perfect choice for a Connery film in the heart of the swingin' sixties.
You Only Live Twice (1967)
On Her Majesty's Secret Service (1969)

03:02

1967 - James Bond - You only live twice title sequence

02:55

1969 - James Bond - On her majesty's secret service title sequence

This theme was performed by Nancy Sinatra, the daughter of Frank Sinatra, who is best known for her 1966 signature hit "These Boots Are Made for Walkin'". It's no wonder she was hired the following year to do a Bond theme.
The theme song for George Lazenby's only film as James Bond is one of the few without singing. The song was composed by, you guessed it, John Barry, and performed by the "John Barry Orchestra". Jazz legend Louis Armstrong makes a guest appearance on trumpet.
1970's
Diamonds Are Forever (1971)
Live and Let Die (1973)

03:01

1971 - James Bond - Diamonds are forever title sequence

03:04

1973 - James Bond - Live and let die title sequence

Another masterstroke of iconic theme production by John Barry and Shirley Bassey, "Diamonds Are Forever" is one of the most famous and respected Bond songs. 40 years later the song had a revival with a wonderful remix by Kanye West and Jay-Z.
This was the first time the Bond franchise embraced Rock music. Beatle Paul McCartney wrote the score for the entire film (Roger Moore's first appearance as Bond) and recorded the theme with his band Wings.
The Man with the Golden Gun (1974)
The Spy Who Loved Me (1977)

02:54

1974 - James Bond - The man with the golden gun title sequence

03:25

1977 - James Bond - The spy who loved me title sequence

This song is probably the most famous Bond theme that wasn't sung by Shirley Bassey. Scottish Eurovision winner and popstar Lulu performed it, and it became perhaps the most acclaimed song of her entire career.
A young American singer named Carly Simon rose to fame in the 70's with a string of hit records, which lead to an invitation to sing "Nobody Does it Better", the first Bond theme song that didn't share its title with the film.
Moonraker(1979)
Shirley Bassey's third and final Bond theme was, like the rest, composed by John Barry. Although it's the least famous of the Welsh singers Bond themes, she still included it in the beautiful live medleysshe often performs now late in her career.
1980's
For Your Eyes Only (1981)
Octopussy (1983)

03:06

1981 - James Bond - For your eyes only title sequence

03:02

Octopussy Opening Title Sequence HD

After starring in a BBC television documentary about trying to make "The Big Time", Scottish singer Sheena Easton continued her rise to fame by performing this song. It was the most recent Bond theme to be nominated for the Academy Award for Best Original Song. Paul McCartney and Carly Simon were also nominated for their themes.
"All Time High" was the name of the Octopussy theme, perhaps because lyrics involving the word Octopussy might have sounded a bit odd. THe song was written by John Barry, Tim Rice, and Stephen Short, and performed by the American vocalist Rita Coolidge.
A View to a Kill (1985)
The Living Daylights (1987)

03:20

A View To A Kill Opening Title Sequence HD

02:49

The Living Daylights Opening Title Sequence HD

In the true spirit of the 80's, this theme was written and performed by English New Wave band Duran Duran, who were nominated for Best Original Song at the Golden Globes. It was the only Bond theme to ever reach the #1 position on the Billboard Hot 100 charts.
The 80's musical style didn't quit as this theme was performed by Norwegian pop group a-ha, who did the hit single "Take On Me". "The Living Daylights" was composed by John Barry and Pål Waaktaa.
Licence to Kill(1989)
Despite being known for hits in the 1960's and 1970's, the legendary "Empress of Soul", Gladys Knight, was commissioned to sing the Bond theme "Licence to Kill" in 1989. It was a top ten hit in the UK and Germany.
1990's
GoldenEye (1995)
Tomorrow Never Dies (1997)

03:00

1995 - James Bond - Goldeneye title sequence

03:13

Tomorrow Never Dies Opening Title Sequence HD

Bond got to a late start in the 90's; the first Brosnan film wasn't released until mid-decade. The GoldenEye theme was written by U2's Bono and The Edge and performed by Tina Turner. Up to that point, Turner's presence in popular music had kind of faded away, but the Bond theme brought her back!
Written and performed by Sheryl Crow, "Tomorrow Never Dies" was nominated for a Grammy and a Golden Globe for Best Original Song. You may have noticed at that the visual effects of the title sequences continue to get more impressive as the years go on.
The World Is Not Enough(1999)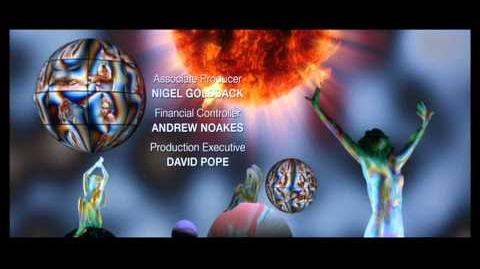 Despite being performed by Shirley Manson and her alternative rock band Garbage, this song ended up being the least contemporary of the Bond themes during the Brosnan years. Manson was the third Scottish singer to record a theme, and she sounds arguably more "classic Bond" than Scots Sheena Easton or Lulu.
2000's
Die Another Day (2002)
Casino Royale (2006)

03:28

2002 - James Bond - Die Another Day title sequence

03:20

Casino Royale title sequence in 720p HD

Pop icon Madonna wrote and performed "Die Another Day", which peaked at number 8 in the Billboard Hot 100. The accompanying music video was the second most expensive of all time after "Scream" by Michael and Janet Jackson. Total production costs: $6 million.
"You Know My Name" was the second Bond theme to not share a name with its corresponding film, and the first to not be included on the soundtrack album. It was written and performed by Chris Cornell (from Audioslave and Soundgarden) and has 3 separate versions: album, single, and movie, the latter of which featured more orchestrated parts.
Quantum of Solace (2008)
300px
"Another Way to Die" was the the third Bond theme that does not share a name with its movie and the first duet in the franchise. It was written by Jack White, who can be heard on drums, guitars, and vocals, along with Alicia Keys who plays piano and sings.
2010's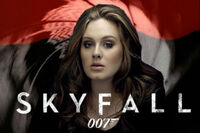 Obviously, Skyfall won't be released until November 9th, but it has been confirmed that Adele will perform the titular theme song, which was co-written with producer Paul Epworth and recorded at the famous Abbey Road Studios. The song features orchestrations by J. A. C. Redford and Adele stated that recording "Skyfall" was one of the proudest moments of her life.
Adele's theme has just been released so, if you're interested in taking a listen, check it out. A lot of people think Adele's sultry voice and the lyrics of the song offer a classic Bond vibe, but listen to it out for yourself and let us know what you think.
Voting
Which decade featured the best Bond theme songs?
---
---
Ad blocker interference detected!
Wikia is a free-to-use site that makes money from advertising. We have a modified experience for viewers using ad blockers

Wikia is not accessible if you've made further modifications. Remove the custom ad blocker rule(s) and the page will load as expected.