Congratulations Jason.thomas.scott!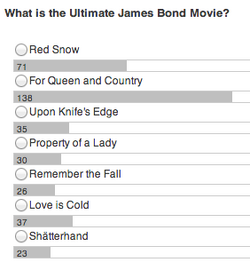 Over a week ago, we asked the Wikia community to create their Ultimate Bond Movie, and we received nearly 500 submissions. On Monday, our team of judges narrowed them down to 007 finalists and left it up to you guys to vote for the grand prize winner.
360 users voted, and in a landslide victory, Jason.thomas.scott won the contest with 38.33% of all votes for his Ultimate Bond Movie, "For Queen and Country." Ganfon's "Red Snow" came in second, and Agent Raptor's "Love is Cold" followed in third, but only "For Queen and Country" was popular enough to earn Jason.thomas.scott the grand prize.
He will receive 2 tickets to see Skyfall, the Bond 50 DVD box set, and a custom "For Queen and Country" movie poster, in JPEG form, that will be featured on the Wiki's main page. Now behold, the James Bond Wiki's Ultimate Bond Movie:



User: Jason.thomas.scott
Click here to view the finalists, honorable mentions, and some interesting data from the contest!
Ad blocker interference detected!
Wikia is a free-to-use site that makes money from advertising. We have a modified experience for viewers using ad blockers

Wikia is not accessible if you've made further modifications. Remove the custom ad blocker rule(s) and the page will load as expected.