Vesper Lynd (Eva Green)
Talk

2
1,001pages on
this wiki
Character information
Name(s):
Vesper Lynd
Age:
25
Died:
August 4, 2006
Venice, Italy
Hair/eye color:
Brown (Eyes), Brown (Hair)
Height/weight:
-- (Height), -- (Weight)
Nationality:
British
Occupation:
HM Treasury liaison
Affiliation:
HM Treasury
Status:
Deceased - Drowned
Behind the scenes
Role:
Bond girl
Portrayed By:
Eva Green
First Appearance:
Casino Royale (Film)

Last Appearance:
Casino Royale (Film)

Vesper Lynd is a fictional character of Ian Fleming's James Bond novel Casino Royale. In the 1967 film version she is played by Ursula Andress (who played Honey Rider in Dr. No). In the 2006 version she is played by Eva Green.
Film biography

Vesper is introduced on a train headed to Montenegro with James Bond. They quip at each other and he establishes that she was an orphan who worked her way up to become a liaison from Her Majesty's Treasury to monitor MI6's finances in the high-stakes poker game at the Casino Royale. Bond used her beauty during the game to distract the other players. Vesper reluctantly aided Bond in killing Obanno and suffered a breakdown in the shower, where Bond consoled her. The two then became lovers.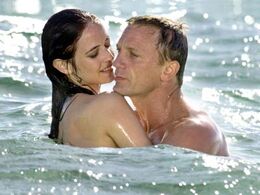 She refused to give Bond another $5 million to buy back in, citing his recklessness. When Bond finally won the poker game Vesper was kidnapped by Le Chiffre, luring Bond to get captured as well. They were freed by Mr. White. Unknown to Bond, Mr. White blackmailed Vesper by kidnapping her boyfriend. He would release him if she stole the winnings from Bond, which she attempted in Venice on a facade vacation with her new facade of a lover - Bond.
Vesper drowned during a shoot-out between Bond and Mr. White's henchmen over the poker game winnings. Bond retrieved her body and pursued Mr. White when he found a note from Vesper on her cellphone.
Behind the scenes
Place in the series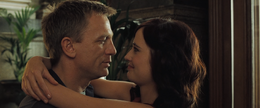 Vesper is Bond's first romantic interest as presented in Ian Fleming's original novels (although later prequel works by
Charlie Higson
would present other candidates).
Other than Bond's future wife Tracy, she is the only woman in the series to whom Bond proposes and is practically the only romantic interest to be a fellow intelligence agent, apart from the movie's Miranda Frost, who turns out to be Graves' double agent. (Gala Brand is a policewoman, not an intelligence agent, and she ultimately rebuffs Bond's advances, being engaged to another man; Tatiana Romanova is in the intelligence business but works for the KGB; and Bond's relationship with MI6 employee Mary Goodnight remains ambiguous at the end of the final book to feature her).
Cocktail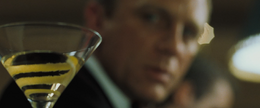 Fleming created a cocktail recipe in the novel that Bond names after Vesper. The "
Vesper martini
" became very popular after the novel's publication, and gave rise to the famous "shaken, not stirred" catchphrase immortalized in the Bond films. The actual name for the drink (as well as its complete recipe) is uttered on screen for the first time in the 2006 adaptation of
Casino Royale
.
Trivia
According to the novel, Vesper was so named by her parents because she was born on a stormy evening.
Vesper Lynd is a pun on West Berlin. Like her namesake, the Cold War-era city of Berlin, Vesper's loyalties are split down the middle.
Gallery