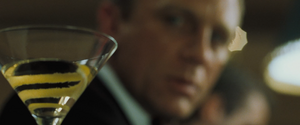 "Shaken, not stirred."
― Bond
A Vesper martini, named after Bond's first love Vesper Lynd, is his alcoholic drink of choice. It is made with three measures Gordon's, one measure vodka, half of Kina Lillet, shaken over ice with a thin slice of lemon peel.
It appears in many of the Bond novels and films but is first described and named in the Casino Royale novel.
Ad blocker interference detected!
Wikia is a free-to-use site that makes money from advertising. We have a modified experience for viewers using ad blockers

Wikia is not accessible if you've made further modifications. Remove the custom ad blocker rule(s) and the page will load as expected.