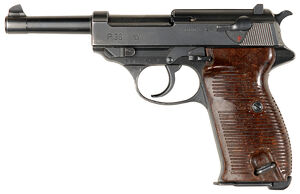 The Walther P38 is a German pistol seen and used in the film adaptations of From Russia with Love and Goldfinger.
Specifications
Production: 1938-1963
Type: Pistol
Weight: 800 g (1 lb 12 oz)
Length: 216 mm (8.5 in)
Barrel length(s): 125 mm (4.9 in)
Capacity: 8 rounds
Fire Modes: Semi-Auto
Background
The P38 only appeared in the film adaptations of From Russia with Love and Goldfinger. In the film From Russia with Love a Soviet guard at the Russian consulate fires a P38 during the attack but Bond stops him in a small struggle. In the film Goldfinger, when Bond first engages Goldfinger men after the car chase, oddly he fires a P38 at them instead of his PPK. Several of Goldfinger's men is seen carrying them as their sidearms, of one of which also manage to stole one after taking out the prison guard before handing it back over to Pussy Galore after she and Goldfinger's men caught him under Goldfinger's meeting room. One of the American mobsters in the meeting room draws a P38.
Trivia
It is been used as a service pistol to the German armed forces or the Wehrmacht at the the beginning of the second World War.
If you look closely at Bond's gun when he is shooting at Goldfinger's men after the car chase, you can see he's holding a P38 instead of his PPK. It's possibly a movie mistake.
Images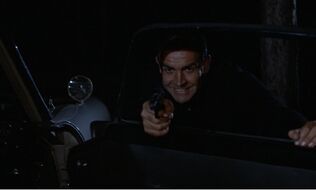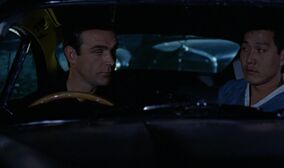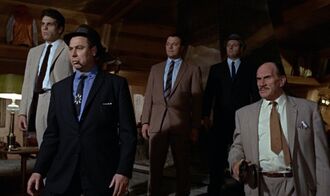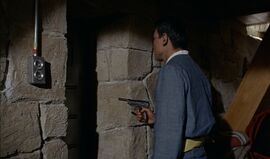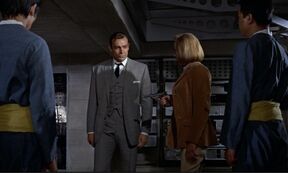 Ad blocker interference detected!
Wikia is a free-to-use site that makes money from advertising. We have a modified experience for viewers using ad blockers

Wikia is not accessible if you've made further modifications. Remove the custom ad blocker rule(s) and the page will load as expected.