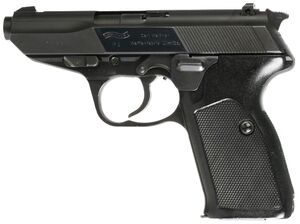 The
Walther P5
is a German pistol that is seen and used in the the films
Octopussy
,
Licence to Kill
and the unofficial
Never Say Never Again
.
Specification
Production: 1977-?
Type: Pistol
Weight: 1.75 lb (0.795 kg)
Length: 7.1 in (180mm)
Barrel Length(s): 3.5 in (90mm)
Capacity: 8 rounds
Fire Modes: Semi-Auto
Background
The pistol appeared in the films Octopussy, Never Say Never Again, and Licence to Kill. In Octopussy the gun is used throughout the film even though he tells Q that he "mislaid my PPK". It returned in Never Say Never Again by mislabeling the gun as a Walther PPK. It make its last appearance in Licence to Kill when Dario points it to Bond during the tour of Sanchez's lab.
Trivia
It appeared in Octopussy because the use of the gun was to appease Walther, who wanted to promote the new gun.
Due to mislabeling the gun as the Walther PPK it appeared in Never Say Never Again.
Images
Ad blocker interference detected!
Wikia is a free-to-use site that makes money from advertising. We have a modified experience for viewers using ad blockers

Wikia is not accessible if you've made further modifications. Remove the custom ad blocker rule(s) and the page will load as expected.