Where Has Everybody Gone?
Talk

0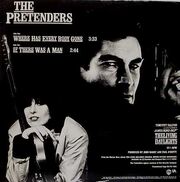 "Where Has Everybody Gone?" is a song by English-American rock band The Pretenders. It was one of two songs recorded by the band for the 1987 James Bond film The Living Daylights, the other being "If There Was a Man".
"Where Has Everybody Gone?" were included on the The Living Daylights soundtrack, as well as an instrument remix of the former. In the film, Necros is seen listening to the song through his earphones several times before making kills of a milkman and Saunders and the song starts up a few times when he appears on screen. An instrumental version plays during the fight between Necros and Bond aboard a Soviet cargo plane at the film's climax.